This review appeared last month in Shelf Awareness for Readers, and is reprinted here with permission.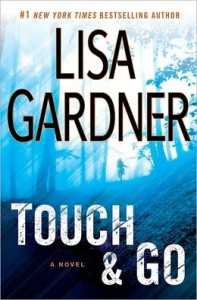 From the outside, Justin and Libby Denbe look like the perfect couple with the perfect life. He's the head of a multimillion-dollar construction business; she's a jewelry maker with the artistic skills to turn their townhouse in Boston's ritzy Back Bay into an enviable showcase. They idolize their fifteen-year-old daughter, Ashlyn. Then, one day, the entire family disappears.
Justin's firm hires investigator Tessa Leoni (from Gardner's Love You More) to look into the kidnapping, which doesn't immediately generate a ransom demand. What could the perpetrators—who appear to be professionals, with a military background—want? And who hired them? As Leoni probes further, the case revives the pain she felt when her young daughter Sophie disappeared two years earlier.
Gardner does an admirable job of allowing her characters to be flawed without alienating readers. As the Denbes endure captivity, they realize they haven't interacted like a family in months. Libby has been popping pills, Justin had an affair, and Ashlyn—well, she has a pretty disturbing secret, too.
The ending is fairly predictable, and Gardner has a penchant for repetition—"flushed" and "murmured" appear multiple times on some pages—but the journey is compelling as the Denbes confront the dismantling of their lives, even before the abductions, and slowly find strength during their darkest hours to pick up the pieces again.
Nerd verdict: Go keeps pages turning