I've been raving about this book since I read it a couple months ago. My review ran in Shelf Awareness for Readers last week, so I can finally publish it here with permission.—PCN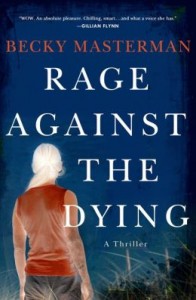 The prologue of Becky Masterman's debut thriller, Rage Against the Dying, announces the arrival of a major talent on the crime fiction scene. As a killer preys on a seemingly fragile old woman, the scene is fraught with tension; the reader wants to scream for the woman to save herself, but it's the killer who's unlucky, because he just picked the wrong person to mess with.
Masterman's heroine is Brigid Quinn, a 59-year-old retired FBI agent who still carries guilt about an unsolved case from years earlier, in which her protégée disappeared and is presumed dead. Then a man is arrested and confesses to being the serial killer in that case, spouting information only the murderer would know. When young FBI agent Laura Coleman doubts his confession, her life is endangered. Brigid refuses to let history repeat itself, and realizes she may be the only one who can close the case.
Masterman, an acquisitions editor at a publisher of forensic medical textbooks, knows about the creepy, perverse stuff murderers are into, but she doesn't go too far, using just enough detail to chill readers' spines. Brigid seems as if she sprang fully developed from Masterman's imagination, striding confidently into the world despite using a walking stick. The title is a reference to the Dylan Thomas poem about how one should "not go gentle into that good night" and instead "rage, rage against the dying of the light." Brigid's light isn't even close to dying, and hopefully she'll continue raging for a long time.
Nerd verdict: Embrace the Rage