My birthday was last week, and every year, I do something that scares me a little. I figure if I get through that, I'd be able to handle whatever else comes my way the rest of the year.
So last week, I went down to Marina del Rey to try paddleboarding. I'm scared of drowning because I almost drowned twice as a child, once before learning to swim, and once after. Despite lessons with the Red Cross, and my following instructions exactly, I never became a strong swimmer, and can't tread water at all. There's something about my bony body that just wants to sink. My swimming instructors were confounded, too.
Even though I fully expected to go in the water while paddleboarding, I put on a long-sleeved shirt and yoga pants. Mr. PCN, in a surf tee and swim trunks, asked me in the car, "You're wearing a bathing suit underneath, right?"
"Nope."
"You brought a change of clothes?"
"No."
"Are we renting wetsuits?"
"Nah." After he gave me a strange look, I added, "Maybe this will make me try harder to stay on the board. I don't want to give myself permission to fall because I'm wearing something water-friendly."
Mr. PCN shrugged.
When we got to the marina, the paddleboard rental guy also looked at my street clothes as if thinking, "Okaayyy, crazy lady."
"Do first-timers go in the water often?" I asked.
"Oh, yeah," he said, no hesitation.
The winds were strong that day, causing choppy waters. For the first ten minutes, I paddled while on my knees because my board never felt steady enough for me to stand up. But then we moved away from the main channel and toward where boats were docked, where the water was calmer.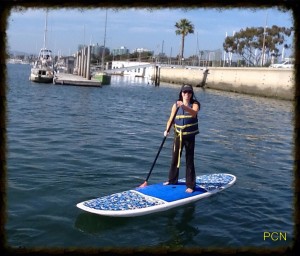 I got up in steps. First I stuck my butt up, then I was in chair position, then finally I was standing straight up. And I stayed standing! The wind was blowing through my hair, the sun was shining, the view was better from up there—what in the world had I been afraid of?
I paddled along like that for a while, feeling the stress of the day and my fears draining from me. I was top of the world, or at least queen of the harbor.
Then this motorboat came up from behind, too close. Its wake rocked my board hard. As I wobbled like a gymnast who'd just landed badly on the balance beam, I was sure I'd go in the water, but I fell to my knees and managed to hang on. I breathed a sigh of relief when the boat moved farther away.
But I found myself unable to get up again. That close call robbed me of all my confidence. It was scarier to stand up again than it was originally when I didn't know anything about paddleboarding. Part of my brain said, "Next time, you may not be so lucky. Play it safe and stay on your knees. You can still make it back to the dock in dry clothes."
I did that—paddle while on my knees—for the next few minutes. Until another part of my brain said, "Are you kidding me?! If you fall, you're supposed to get back up again. You didn't even fall in the water, and you're gonna stay on your knees? You'll just let that man in the boat ruin your day?"
While my brain fought with itself, I started paddling harder and faster. Mr. PCN, alongside me on his own board, said, "Uh-oh, I've seen that look before. She's getting mad. "
And I realized I was mad. I was doing so well! Now look at me, all small and scared. Without further internal debate, I stood up.
Other boats zipped by, kicking up big waves. I hung on. We were going against the wind, and my arms were screaming in protest. I kept paddling.
As we approached the dock, the rental guy tried to hide his surprise that I wasn't soaking wet. When we got close, he told us to stop paddling and let him guide us in with a really long paddle.
"We do it this way because people come in too fast, crash the board against the dock, and knock themselves off," he explained.
I started to relax, exhausted but exhilarated that I'd had a good day. Then I noticed the guy was pulling me in too fast. He was going to crash my board and throw me off! Seriously??
I'd already handed over my paddle so I couldn't stop my forward trajectory. There was only one thing to do: wait for the crash to throw me off, but use the momentum to launch myself at the dock. I dangled there briefly until the rental guy reached down and helped me up, apologizing profusely.
"Don't worry about it," I said. "You're not the first person who tried to knock me off my feet today. But I'm fine."
I thought about all this when the news these past several days made me want to cry and hide and not go outside again for a while. But I remember what it felt like after that first boat tried to capsize me, and I tell myself:
Stand up and keep paddling.