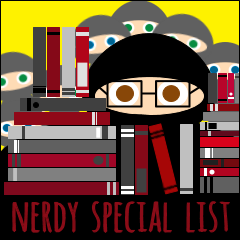 May always brings me a sense of excitement because it makes me think of possibilities, all the good things that May happen, and there are supposed to be flowers from all the April showers, right? Not that I know anything about rain, living in Southern California.
But I do know a little about books, so here's the May Nerdy Special List, with recommendations from my blogger pals and me. Be sure and visit their sites for more reviews and fun bookish features.
From Jen at Jen's Book Thoughts:
The Broken Places by Ace Atkins (Putnam, May 30)

Ace Atkins's third Quinn Colson book takes an exceptional crime series and makes it even better. Colson has to battle escaped convicts on one hand, a questionable clergyman on the other, and the wrath of nature with both hands full. The plot is engaging, as any good novel should be, but what ratchets up the quality of The Broken Places is an incredibly well-developed theme (that also happens to be the title of the novel), the awe-inspiring use and depiction of nature, an enveloping atmosphere, a multi-voice approach that is pitch perfect, and some of the strongest characters in crime fiction. It doesn't matter what section of the bookstore or library you shelve The Broken Places in, it's an outstanding read.
From Danielle at There's a Book:
Mustache Baby by Bridget Heos, illustrated by Joy Ang (Clarion Books, May 14)

Billy is a normal baby with one very unique exception: a mustache. Is he destined to be a good guy or  bad guy? Only time and his mustache will tell. On good-guy days, he spends his time as a painter, a fighter pilot, a doctor, and even a ringleader at a circus. But on bad-guy days, Billy's mustache curls up on ends and he leads a life of crime, by becoming a cat burglar and even a cereal criminal. Everyone has bad days, though, and one bad-guy day doesn't mean a lifetime of bad-guy mustaches.

Bridget Heos's newest picture book earned a spot on our most anticipated of 2013 list last year, and it has planted itself at the top of our favorite books of all time.
Julie at Girls Just Reading has two recommendations, one in women's fiction, the other in crime fiction:
Looking For Me by Beth Hoffman (Pamela Dorman Books, May 28)

This book has something for everyone: mystery, love story, family drama, and an eccentric Southern town. The main character, Teddi, is either someone you want to know or someone you aspire to be. She is tied to her family's farm in Kentucky, but made her grown-up life in Charleston. Ms. Hoffman has a knack for creating genuine characters, and novels  you want to read from cover to cover in one sitting, even if you can't. It's obvious she's done her research on wildlife for this. Looking For Me is a novel you can get lost in anywhere.

Buy it from Amazon | IndieBound

A Conspiracy of Faith by Jussi Adler-Olsen (Dutton, May 28)

This is the third installment in the Danish author's Department Q series. While it might not be the best or the most succinct, it is definitely worth picking up. I love the way Mr. Adler-Olsen writes the crime part of the novel. You always know slightly more than Detective Carl Morck and his assistant Assad, but not enough to solve the case or even figure out the killer's identity. Assad is very much an intriguing character. His past remains curious to me after reading this novel.

If you haven't read any of the Department Q novels, then you must start with The Keeper of Lost Causes, The Absent One, and then this one, as there is a lot of background about the relationships that you need from the previous books.
From Rory at Fourth Street Review:
A Dual Inheritance by Joanna Hershon (Ballantine, May 7)

This multigenerational, multicontinental novel centers around two men who meet during their senior year at Harvard. Ed, an ambitious but poor son of a boxer and plumber from Dorchester, pursues a friendship with the charming, wealthy, and charismatic Hugh. Although their friendship disintegrates over the mutual love of a woman, their lives keep intersecting unexpectedly, often too close for comfort. Hershon's novel focuses on differences of class, love (in all its forms), and how the decisions we make can resonate throughout our entire lives. Reminiscent of novels by Jeffrey Eugenides, Richard Russo, and Philip Roth, A Dual Inheritance is not an easy read, but this darkly compelling, character-driven novel will be well worth the time you spend on it. Curl up on the sofa and spend a weekend getting lost in the richly textured world Hershon creates.
PCN's Recommendation:
Silken Prey by John Sandford (Putnam, May 7)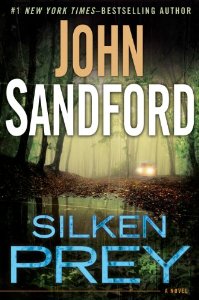 My choice might seem obvious to some of you, but I'm not a loyal Prey fan. I read one book from this series many years ago, and never picked up another until now. Which made me question why, because I found Lucas Davenport sharp and witty, and Sandford's prose lean and incisive, making me enjoy a story that involves dirty dealings in politics, something I have zero interest in. Silken Prey has an intriguing villain with narcissistic personality disorder, which Sandford portrays in both amusing and terrifying ways. Kidd and LuEllen, and Virgil Flowers, who star in two other series from the author, also make an appearance. If you have not kept up or never tried this series, now's the time to pounce on some Prey.