This review originally appeared in Shelf Awareness for Readers, and is reprinted here with permission.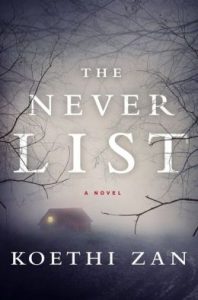 The title of Koethi Zan's The Never List refers to what Sarah and her best friend Jennifer kept as a reminder of things they should always avoid doing, after they survived a car crash at an early age. The girls became vigilant about making sure they stayed safe, obsessing over statistics and percentages of their getting injured or killed in different ways.
But numbers couldn't save them from being kidnapped and imprisoned in a sadist's basement for years with two other women. Sarah eventually helped them escape, but Jennifer never made it out, her body never found. The story opens ten years later, when their tormentor is up for parole. Sarah, now agoraphobic, is determined to keep him locked up and to reclaim her own life by confronting her fears and finding out what happened to Jennifer.
The novel's eerily prescient echoes of the Ariel Castro case add to the gut-wrenching effect of the victims' ordeal. Thankfully, Zan doesn't focus on the torture, but more on the women's spirit, survival instincts and different methods of coping after reentering society.
The novel's weakest aspect is its dialogue. Characters address each other by name too much in conversation, talk in long monologues toward the end to reveal all their secrets, and everyone says "after all" too often. But the pacing is tight, the plot both horrific and compassionate toward the women, so it might warrant a place on lists of summer books to read.
Nerd verdict: Flawed, frustrating, but fast read