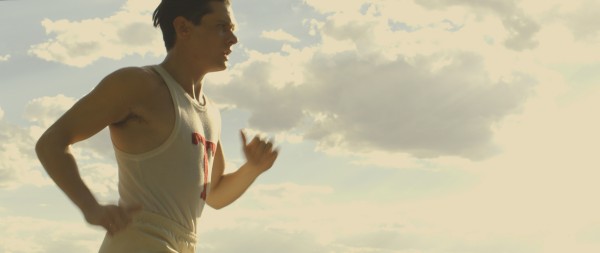 Much of the interest in Unbroken (out Dec. 25) comes from people wondering whether or not Angelina Jolie is a good director, so I'll start by saying she acquits herself well, especially with a production that involves a lot of shooting on water. The film adaptation of Laura Hillenbrand's book is sweeping and epic, with impressive cinematography by Roger Deakins, but there's an earnestness that prevents the film from being great.
It opens with a WWII gun battle in the sky, an excitingly shot and sharply edited sequence that puts viewers right inside the bomber with the film's subject, Louis Zamperini, and his fellow airmen. Then the movie flashes back to when Zamperini was a boy growing up in Southern California, stealing, drinking, and smoking by the time he was nine.
Seeing how fast Zamperini can run away from police, his brother Pete encourages him to run track. Zamperini makes it to the 1936 Berlin Olympics, where he runs the final lap in the 5000-meter in 56 seconds.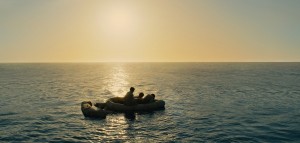 Cut back to Zamperini in the US Army Air Corps and a search mission that leads him to crash into the Pacific Ocean and drift for 47 days with, initially, two other men. They endure exposure and hunger and thirst and hopelessness before being "rescued" by Japanese soldiers, who then throw them into a POW camp and submit them to sadistic treatment for two years until the end of the war.
The story is incredible and Zamperini an astonishing and inspiring figure, but it seems as if Jolie fell in love with the real man a bit too deeply and ended up smoothing his edges too much. He was a rascal as a child, and I've read the man, who died this past July at 97, was a flirt.
But in the movie, as soon as Zamperini starts channeling his energy into running, he becomes a straight-up hero. If he'd been allowed to be portrayed by the able Jack O'Connell (with fabulous hair) as a bit more mischievous or a likable scoundrel, he would've come across more full bodied on screen.
O'Connell spoke at the screening I attended (Jolie was also scheduled to appear but was sidelined by chicken pox) and he seems to have that combination of rough edges and mischief that Jolie probably saw when she cast him. The movie Louie could've used more of those qualities.
Japanese singer Miyavi, in his acting debut, leaves an impression as The Bird, the head torturer of Zamperini and other captured American soldiers. Miyavi's performance conveys the sense of The Bird's overcompensation for his shortcomings as a man and a soldier, how he must try to break those he perceives as stronger.
The beatings are hard to watch, but thankfully Jolie isn't gratuitous about the violence. It's necessary to show what Zamperini and the other prisoners endured, but Jolie does so by pulling back and shooting from afar and in shadows, or allowing only sounds to imply the horrors being suffered.
Overall, Unbroken is a bit safe from a director known for taking risks in her acting, but it contains potent moments and the powerful message that even in the darkest times, we can win the battle against despair.
Nerd verdict: Strong but shows weakness in places
Photos: Universal Pictures