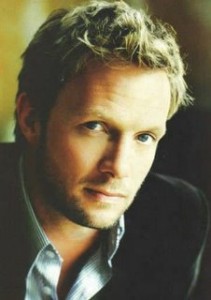 Back in March, I wrote about MI-5's Rupert Penry-Jones doing a Jerry Bruckheimer pilot, which had me excited at the prospect of seeing this fine British thespian every week on my TV. The Hollywood Reporter now reports that it's official! ABC has picked up the pilot, called The Forgotten, which also stars Reiko Aylesworth (whom I enjoyed on 24), Rochelle Aytes, Anthony Carrigan, Michelle Borth, and Bob Stephenson. Penry-Jones plays a former cop whose child was kidnapped so he leads a team of amateur sleuths in solving cases involving unidentified victims. I'm predicting (hoping?) Penry-Jones will be huge here in America. I mean, he looks like that and he's a good, classically-trained actor. (Alas, bad news update here.)
ABC is also picking up V, the remake of the 1980s mini-series -turned-series about reptilian aliens, dubbed the Visitors, who come to Earth in human form pretending to be friendly and in need of help. They soon start killing people, revealing their real intention of stealing Earth's resources for their dying planet.
I was interested in the remake because I really liked the original mini-series. I got to see the pilot (see clip below), which still uses the striking red "V" logo, and think it's well done. It's suspenseful, with good acting, high production values and one decent fight scene between humans and aliens.
Lost's Elizabeth Mitchell brings her usual intelligence and competence to Homeland Security agent Erica Evans, Scott Wolf makes a good replacement for Marc Singer in the
reporter role, and Morena Baccarin is perfectly cast as Anna, the alien leader. Jane Badler's performance as Diana in the original is very memorable but Baccarin puts her own stamp on the role with her smiling-but-slighly-menacing presence. She also sports a close-cropped hairdo which goes well with her sleek alien wardrobe (silver, not red). Others in the cast include Baccarin's Firefly co-star Alan Tudyk, Morris Chestnut, Lourdes Benedicto, Laura Vandervoort and Joel Gretsch.
Variety reports that ABC will present V as a "limited event series," which suits me just fine because it's better when the story isn't dragged out. When they turned the mini-series into a series back in the mid-'80s, it lost its juice.
Other good news included ABC's renewal of Better Off Ted; that show is hilarious but suffered from anemic ratings. Cheers to the network for giving it another season to find an audience.
Are you excited about any of these news? Any other V fans out there?