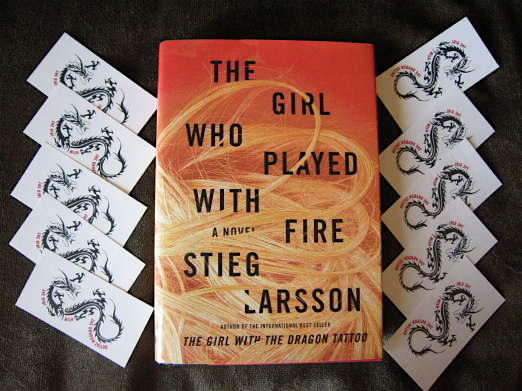 Using Random.org to make the selection, I have a winner: Reader#9! You get a hardcover copy of Stieg Larsson's The Girl Who Played with Fire and dragon tattoos. Send me your details, please (click on "Contact" in upper right corner).
But wait—there's a twist! (Can't have a mystery without one, right?) Due to the number of entrants, I felt bad I could have only one winner so I decided to give away my softcover ARC, too. This was no easy decision since I love this book so much. But, like the cheesy saying goes, I love it enough to let it go, because it needs to go out into the world and be read by as many as possible.
So, I went back to random.org and had it pick out another winner for me. And the second winner is: Eddy! If you don't mind getting an ARC (it's quite close to the finished version), e-mail me your addy and I'll get this out to you.
Thanks to all for entering and telling me about great foreign titles I need to check out. Keep your eyes peeled for more giveaways soon!