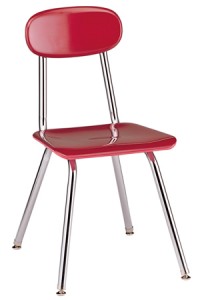 I had so much fun when we played our storytelling game last time (read it here), I decided to do it again. Based on an exercise Elizabeth Gilbert wrote about in her book Committed: A Skeptic Makes Peace with Marriage, the rules are simple. I throw out a random word and you tell me a story, whatever thought or memory triggered by that word. The word is mundane on purpose because creating an interesting anecdote around it is more of a challenge than if the word is, say, "lederhosen." I mean, that's too easy, right?
I asked someone to give me a word so that I don't cheat and only select ones that have amazing stories tied to them. And I was given: chair.
This made me think of a time in fourth grade when I was the new kid in school. My first day, I had to take the chair at the front of the class directly across from the teacher's desk because no one else wanted to sit there.
I was asked to go to the blackboard at one point to do some math problem. When I came back to my chair, I unwittingly sat down on a handful of thumbtacks. YOW! Apparently, the two classroom bullies decided to waste no time picking on the new girl so they put tacks in my seat.
Instinctively, I knew if I cried out, I'd be a target forever. They were waiting to hear me scream and then they'd laugh at me. So, though my eyes started to water, I clenched my teeth and sat still.
I heard one boy whisper, "I thought you put the tacks in her chair!"
"I did!"
"Why isn't she doing anything?!"
"I don't know!"
"You're stupid!"
"No, YOU are!"
If I hadn't been in pain, I would've laughed. Instead, I focused on resisting the urge to jump up and pull tacks out of my butt. When the two boys eventually lost interest in me, I shifted, um, myself slightly and yanked them out discreetly. The morons never picked on me again.
OK, your turn!