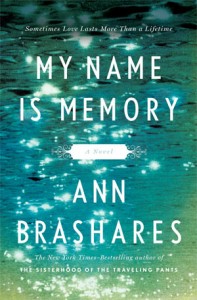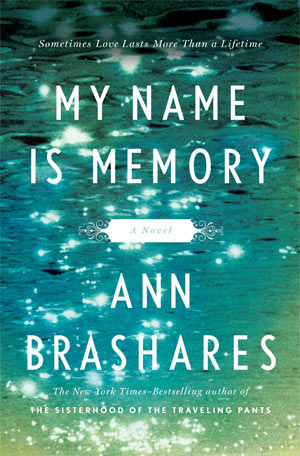 As I began this review of Ann Brashares's My Name is Memory (Riverhead, out today), I wondered if I'm way too old to be its target audience. The novel contains the kind of melodramatic language one might find in a young girl's diary, including mine from another lifetime. Perhaps this isn't surprising since Brashares is best known for her Young Adult Sisterhood of the Traveling Pants series. But since this title is deemed "adult," I guess it's fair game for my assessment.
Our hero Daniel has lived many lives, starting around 520 A.D. He has "the memory," the rare ability to recall events from all his past lives. In most of them, he has loved a girl named Sophia, though she's had different names through the ages (at a certain point, Daniel decided he would only go by that name no matter what moniker he's given at each new birth). His main goal in each life is to find Sophia and convince her of their eternal love since her memory is not so good. His attempts have been repeatedly thwarted throughout the centuries, often by a malevolent character named Joaquim, who was once his brother. In that lifetime, Sophia was Joaquim's wife but ran off with Daniel to escape the brother's abuse (Daniel and Sophia never consummated their relationship) and Joaquim has wanted revenge ever since. The story jumps through different time periods, with the hope that Daniel and Sophia, named Lucy in present day, will finally get to be together.
The concept is intriguing—I'm a fan of time-travel stories—but the execution is problematic for several reasons. The first is a contradiction of the following declaration:
There are so many things I've seen that I could tell you about. But I am telling you a story, a love story, and I will try, with limited digressions, to hold on to my thread.
But digress Brashares does, impeding the urgency and momentum I felt is needed in Daniel's search. For example, he goes looking for Lucy at the University of Virginia, where she's a student (the college is never named but it's definitely UVA from the descriptions), and promptly gets off-track by reminiscing about the time he met Thomas Jefferson in the '60s when TJ was reincarnated as a black man.
Another problem was my difficulty in discerning the difference between Daniel's and Lucy's voices. Chapters alternate between their points of view but the writing style remains mostly the same. I suppose one could argue this means Daniel is in touch with his sensitive side but his voice isn't convincingly masculine.
The biggest obstacle for me, though, was the overwrought prose about the couple's love for each other. If you've ever been in love or longed for someone, you know exactly how that feels. It doesn't need to be explained in all the quickening-heartbeat-when-the-other-is-near-and-staring-out-the-window-morosely-when-he/she's-not details. I want the language to make me swoon, not do all the swooning for me.
To be fair, I think this book would do well among Brashares's YA fanbase despite its adult categorization. I've seen the first Twilight movie (haven't read any of the books) and Bella and Edward talk the way Daniel and Sophia/Lucy do. While that style is not for me, I can see its attraction for younger readers because once upon a time, when my heart was more innocent, I might've fallen for it, too.
Nerd verdict: Spotty Memory