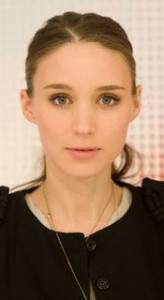 …Rooney Mara.
David Fincher has finally chosen the lead actress for his adaptation of Stieg Larsson's The Girl with the Dragon Tattoo. Mara, 25, will star opposite Daniel Craig as Mikael Blomkvist, Robin Wright as Millenium's editor Erika Berger, Stellan Skarsgard as Martin Vanger, with Max von Sydow in talks for Henrik Vanger.
A few weeks ago, Fincher had whittled down his choices to these four actresses, three of whom are foreigners. Fincher went with the sole American, presumably because he worked with her in his upcoming The Social Network. I don't know anything about Mara's acting so I won't judge but will admit I was kinda rooting for one of the others since the filmmakers are apparently still setting it in Sweden. Then again, Mara has as much chance as the others of being believable since they're not Scandinavian, either.
For more info, click here.
Lisbeth fans, what do you think? (UPDATE: Here are first photos of Mara in character.)