Why am I up at 3 a.m. watching the royal wedding? Because these are difficult times in the world and I want to witness something that's uplifting. As I sit here in my pajamas, I imagine I'm coming together with billions of other people to celebrate a beautiful thing, regardless of race, age, politics or social status. I don't care about the guest list or what's on the menu. I just want to see something on the news that's not depressing for a change.
I didn't wake up early enough to watch all the coverage leading up to the ceremony; I barely threw on my glasses in time to turn on BBC America right as it's starting. Here's my attempt at live-blogging the event. (Times are approximate since I paused the DVR a couple of times to guzzle coffee.)
3:00 a.m. PST Whoa, it's starting exactly on time. The black Rolls Royce is pulling up to Westminster Abbey with Mr. Middleton and Kate inside.
3:01 The BBC commentator is saying it might take Kate awhile to climb out of the car since the dress has a huge train but Kate climbs right out, with the help of her sister, Pippa, who's wearing a fabulous bias-cut ivory column dress.
Kate's dress resembles Grace Kelly's on her wedding day, with long chantilly lace sleeves and fitted bodice but the neck isn't as high as Kelly's. Her veil is held in place by a small tiara made in 1936 lent by the Queen. Her hair is down in soft curls and looks how it usually looks. Sometimes brides get carried away on their wedding day and go for complicated hairdos they've never worn and end up resembling the Bride of Frankenstein more than themselves. Kate looks beautiful and timeless; fifty years from now she'll still be stylish in photos. The commentator says Sarah Burton from Alexander McQueen has been confirmed as the dress's designer.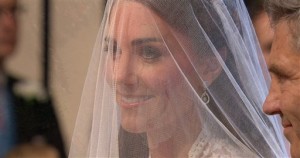 3:02 Closeup of Kate inside the abbey. Ooh, nice drop earrings. Very pretty and the perfect size, not too big or gaudy. She looks happy, very smiley and composed. Aww, that's how every bride should look, regardless of whether her every move is being scrutinized by billions of people on her wedding day.
3:06 Princes William and Harry come out before the bride's procession up the aisle. William looks sharp but nervous in his red Irish Guards tunic with the blue sash and medals. Harry looks dapper, too, in his Blues and Royals military uniform.
3:07 Kate starts up the loooong aisle, still smiling.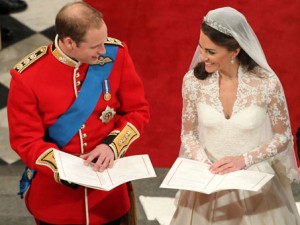 3:09 She gets to the altar. William looks over and they chat briefly about something. They just look like two kids getting married, not a future king and queen. He looked nervous when he first came out but seems much better now that Kate is standing beside him.
3:11 Singing commences. Look, there's Elton John.
3:12 And the queen in her yellow coat dress and hat. The camera showed Elton before the queen?
3:14 "Dearly beloved…"
3:18 They're saying their vows. I didn't know or never paid attention to the fact Prince William's full name is William Arthur Phillip Louis. Kate does not flub it.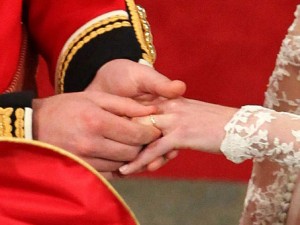 3:20 He slips the ring on her finger. Not surprisingly, it's a simple band. Kate (I'm not used to Catherine yet) doesn't seem capable of anything flashy.
3:21 They're pronounced man and wife.
3:26 Kate's brother, James, is reading from the Bible, Romans 12: 1, 2, 9-18. I like this passage: "Live in harmony with one another; do not be haughty, but associate with the lowly; do not claim to be wiser than you are." Good advice for all of us, I think.
3:41 Closeup of three little choir boys, all wearing glasses. Nerds rule!
3:54 Trumpets blare for "God Save the Queen."
3:55 William and Kate have to go into the inner sanctum of the abbey, the Shrine of St. Edward, to sign three different marriage registers. More singing ensues while we wait. Look, there's another little nerd boy in glasses—an Asian one!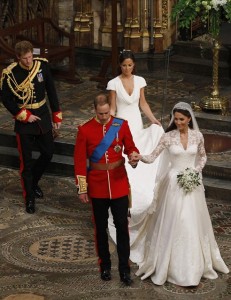 4:07 William and Kate emerge, walk back down the aisle, heading for the exit.
4:10 They're greeted by enthusiastic crowds as they step out the front door. Church bells are ringing. Magnificent.
4:11 William puts on his forage cap and white gloves before helping Kate into the open carriage. It's all very gallant.
4:13 They're on the move, headed back to Buckingham Palace. She gives her first waves as the Duchess of Cambridge and William gives military salutes. Sharp.
4:22 Whoa, the queen has a HUGE grin as she rides in her carriage. We don't see her that happy that often; it's the equivalent of the rest of us busting a gut. It's nice. I don't remember her looking like that when Charles and Diana got married.
4:29 The wedding party arrives at the palace and go inside. There's a break here for about an hour before they're scheduled to re-emerge for their iconic balcony moment. I can't decide if I should nap or forage for snacks. Snacks win.
5:17 The anticipation in the crowd builds as William and Kate are due to reappear any minute now on the balcony. A woman wearing a hat with cardboard cutouts of W & K mounted on top is being interviewed and she says she came out "for Diana." I wish William's mother were here to see this.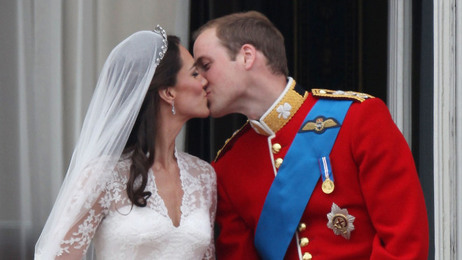 5:25 The wedding party steps out on the balcony. William and Kate kiss. He looks shy and blushes a little afterward. How cute!
5:36 Wow, one of the flower girls looks grumpy. I think she just decided she's had enough fun for the day.
5:38 While waiting for fighter jets to fly over the palace as a symbol of the British resistance during World War II, William and Kate kiss again. The crowd goes wild.
5:40 The jets do their flight pass and the queen starts heading inside, indicating the balcony appearance is over.
This was a nice ceremony—classy, traditional, full of pomp but not pompousness. I was really impressed by how composed Kate looked through the whole affair. She seems sure of who she is—I heard she was determined to do her own makeup though she could have had top professionals do it—and graceful enough to be a queen.
Did you wake up early to watch? What did you think?
Photos: AP & Getty