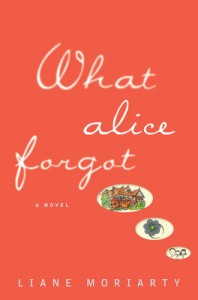 I mentioned in my review for S.J. Watson's Before I Go to Sleep that amnesia seems to be a hot topic this summer (Marcus Sakey's The Two Deaths of Daniel Hayes also features an amnesiac) but I've noticed something else that's popular: characters named Alice. Laura Harrington's superb debut novel and her lead character are both named Alice Bliss, Alafair Burke has an Alice as her Long Gone protagonist, Elle Fanning plays Alice in the movie Super 8, and the book I'm reviewing today, What Alice Forgot, combines the two trends by featuring a lead named Alice who has amnesia.
Alice Love falls down while at the gym, hits her head and loses all memory of the last ten years of her life. She thinks she's 29 instead of 39, and the last thing she remembers is being broke, pregnant with her first child, and deeply in love with her husband, Nick. Imagine her shock, then, when she calls him from the hospital and gets a nasty, unsympathetic reaction from him. Is their marriage no longer idyllic? And she has three children now?
In the weeks that follow her fall, Alice tries to reclaim her life but finds it has changed drastically. She has somehow attained the house of her dreams and a nice toned body, but her kids and the person she's become are strangers to her. Her eldest daughter seems to resent her, her once-close sister has become distant, and her friends are all catty, bitchy women. She apparently also has a new suitor but she still loves Nick while he wants nothing to do with her. Does Alice really want to recover her memories if they'll only tell her how she ended up here?
This novel is much more thought-provoking than the premise sounds. Moriarty tackles some weighty subjects but does so with a light hand and breezy pace. She uses wit to examine the complexities of life, how it can alter in small ways without our noticing until one day we might wake up to an existence beyond our recognition. Could we prevent that from happening if we can somehow see where we end up years from now? Or is change inevitable and necessary in order to survive?
Moriarty doesn't make things black and white for Alice or predictable for the reader. There's a bit of mystery about what happened during her lost decade, and how Alice will deal with the knowledge when she regains it. The ending is moving and may surprise readers who think they've got everything figured out. Alice's journey is messy and sad and joyful, much like life itself.
Nerd verdict: Delightful, thought-provoking Alice