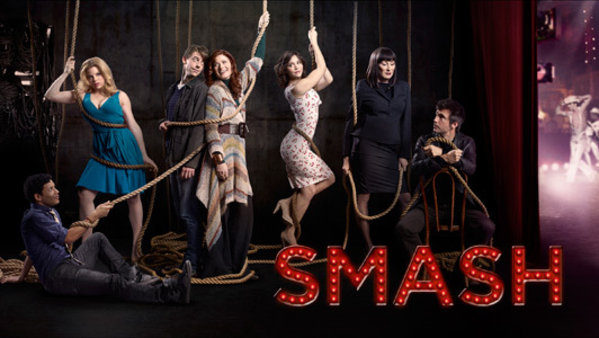 Yeah, yeah, it's exec produced by Steven Spielberg, stars Anjelica Huston and Debra Messing, has big musical numbers…but is it any good? Well, it's technically impressive, but after finishing the pilot episode of Smash (premiering Monday, Feb. 6 at 10/9c on NBC), I still had a hard time locating its heart.
The story revolves around the songwriting team of Tom and Julia (Christian Borle and Messing) trying to find the perfect actress to play Marilyn Monroe in a Broadway production about her life. We see a room full of wannabes and one bad audition and by the end of the pilot, it looks like it's down to just two contenders: blond and curvy Ivy Lynn (Megan Hilty, Wicked) and doe-eyed brunette Karen Cartwright (Katharine McPhee, American Idol). Ivy is a chorus girl itching to strut her stuff in a lead role, while Karen is a waitress from Iowa who's so green, she immediately jumps at the chance to go over to the director's home at 10 p.m. for a one-on-one "coaching session." Uh huh. That's not just being a naive actress; that's being a stupid female.
Both Hilty and McPhee have superb singing voices, but so far, neither Ivy nor Karen seems like a shoo-in to play Monroe. Ivy has the Broadway experience, is more dynamic while performing, looks more like the iconic actress, but there's a been-around-the-block hardness to her character that wouldn't be right for Marilyn, who's softer around the edges. Karen has more of the innocence, but she's so inexperienced as an actress that I, too, would hesitate to put my money on her to carry a big Broadway production. This is part of the conflict of Smash, since the creative team is having trouble deciding between the two. (Isn't there a third choice? It's New York!)
In the real world, though, Hilty is obviously the stronger actress. Putting McPhee up against her is like scheduling a fight between Jet Li and a kid who just started studying martial arts two weeks ago. The running gag in the show is that producers keep calling Karen "light" when rejecting her for roles and she doesn't know what that means (she does eventually find out). The description is apropos, though, because McPhee is a lightweight compared to Hilty. Some of McPhee's performance looks stilted, her movements are affectations, as if she's not yet settled into the role.
Messing, whose work I enjoyed on Will & Grace, hasn't found her footing, either, as Julia. She has a couple scenes in which she isn't quite convincing as a workaholic taking on two new projects at the same time: trying to adopt a child and producing an original musical. The actress was playing Julia's dilemma in a dramatic fashion, but it seems as if she just wanted to burst out and do something goofy. Anjelica Huston is formidable as usual, but her producer character is—as of now—secondary (she brings money to the table). It's more about the dream and the passion and sweat and tears, and yes, some of it is kind of cheesy.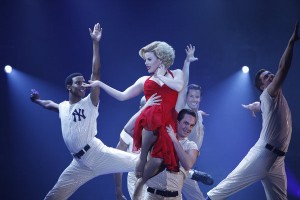 But there is a big, glossy baseball number (because Marilyn was married to Joe DiMaggio), and if you like peeking behind the curtains of a big theatrical production, seeing the training and rehearsals and possible catfights that happen along the way to opening night, this might be the ticket for you.
Note: If you can't wait until Monday, the entire pilot is available now as a free download on iTunes.
Nerd verdict: Not quite Smashing but has potential
Photos: NBC