Since almost half the month has passed, I figured I should get this list up. I've been moving slowly due to January rains, days that get dark at 1:00 p.m., and my general tendency to be sloth-like. My big win today was changing out of pajama pants.
The one thing I'm not lazy about is talking books. Below are the January releases we recommend you check out.
From Jen at Brown Dog Solutions:
Fever Swamp: A Journey Through the Strange Neverland of the 2016 Presidential Race by Richard North Patterson (Quercus, January 10)

Throughout the entirety of the 2016 presidential race—both the primaries and the general election—novelist Richard North Patterson wrote a weekly commentary for Huffington Post. Fever Swamp is a collection of those articles, with additional remarks from Patterson after the November election.

Patterson takes his legal background and the knowledge he's accumulated writing political thrillers to base his arguments in facts, data, and other tangible evidence. His margin notes and section introductions indicate where his predictions went wrong and why, where he was correct and what that meant, and other insights looking back on arguably the most unprecedented election in American history.

Patterson is unapologetically liberal, he's thorough and knowledgeable, and Fever Swamp is at times infuriating and at others terrifying, especially when Patterson discusses the Supreme Court. But it's always enlightening.

It may feel early to scratch the scabs off the wounds created by this election, but we all need to be aware of what is now at stake. Fever Swamp is a good place to start.
From Erin at In Real Life:
Clownfish Blues by Tim Dorsey (William Morrow, January 24)

If you've read Tim Dorsey's books, you know what to expect from Clownfish Blues and will be glad to hear he's in top form. If you haven't yet traveled to Dorsey's Florida, you're in for a treat.

In Clownfish, our erstwhile hero, Serge, and his trusty (although he can't be trusted with much) sidekick Coleman are hard at work reenacting the classic TV show Route 66. Did you know a Florida episode of Route 66 introduced the country to the concept of a bookmobile? Neither did I. I didn't even know there were Florida episodes. But I digress.

Like all Dorsey's novels, Clownfish has moments that are laugh-out-loud funny. There is, however, much more than humor. Serge kills people with more style than any protagonist I've met.

The complicated plots highlights aspects of Florida life, yes, but also American culture as a whole, including state lotteries (and the people who play—and manipulate—them), undocumented immigrants, the legal system, psychics, and…sign spinning.

I would hate to be the person in a bookstore who has to decide where to shelve Clownfish Blues. Crime? Social commentary? Humor? Whatever you love to read, this will not disappoint.
From Lauren at Malcolm Avenue Review:
Burning Bright by Nicholas Petrie (Putnam, January 10)

As in real life, there is no shortage of literary military veterans suffering from PTSD. That makes what Nicholas Petrie has done with his protagonist Peter Ash all the more special.

Ash feels very grounded in reality, but also different in a way that's both refreshing and unsettling. As Burning Bright (second in a series after The Drifter) begins, Ash hasn't slept in anything but a tent or his truck for two years. Instead, he's roaming the outdoors planning to get arrested, since being locked in a cell might force him to "get over" his claustrophobia.

While taking shelter in the California redwoods, Ash stumbles upon the nature fortress of investigative journalist Jane Cassidy, who is also trying to outrun forces beyond her control. Jane's demons are external rather than internal, and take the form of dark-suited men.

It's clear Jane is being hunted, and the men appear to be connected with her recently deceased mother, a genius tenured professor at Stanford. Unfortunately, Jane has little idea what her mother was working on that could spark such dark interest.

Jane and Ash join forces (he has nothing better to do and Jane is attractive), and her investigative prowess coupled with Ash's brawn and resourcefulness make for a compelling team. Although the romance and competitive banter get a bit schmaltzy, it's also obvious neither has connected with another person in a long time.

Petrie focuses on character and action and does both quite well. The pace doesn't let up and the story turns are engaging. The investigation is fraught with mercenary violence and heady computer technology, but the characters' talents always feel righteously earned.

Backed by a cadre of appealing secondary characters, Jane and Ash's chase leads to a place they never expected and a satisfying conclusion worthy of the risks.
From PCN:
Blood and Bone by V.M. Giambanco (Quercus, January 3)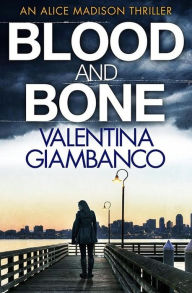 When I first saw the cover of another edition of this book, it had nasty-looking jagged pieces of glass with blood spatters on them and my reaction was, Nope, not reading that. I'm terrified of graphic violence.
By the time the US version arrived on my doorstep, however, the cover has changed to something innocuous enough for me to pick it up. And I'm glad I did.
This is the third in the Alice Madison series but I was fine starting here. Madison is a Seattle PD detective trying to solve a series of extremely brutal slayings possibly linked to old cases that have already been solved. Or have they?
Madison is no-nonsense and so is the prose: after a long day at a murder scene, Madison picks up food on the way home but then doesn't eat it. And that's all that's said about her emotional state that night. By holding back, Giambanco helps Blood and Bone resonate more.
Which books are you exciting about reading this month?