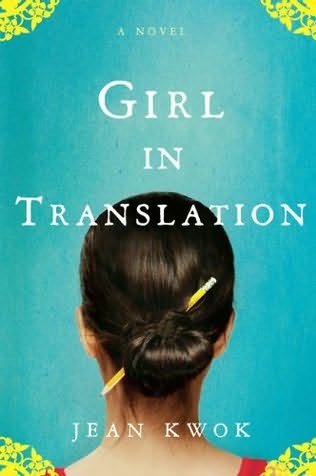 Just as Jean Kwok is hesitant to reveal how similar her novel Girl in Translation is to her real story, I wondered if I could review it without getting too personal about why it moved me. Well, I could, but it'd be a vague, disconnected review. So, I decided to write this one.
The titular girl is eleven-year-old Kimberly Chang, who emigrates from Hong Kong to America with her mother. They land in Brooklyn where her aunt Paula gives them work in the sweatshop she owns with her American husband. Aunt Paula also puts them up in a squalid apartment in a condemned building with no central heat but plenty of roaches. Kimberly helps her mom at the factory after school every day, doing her homework late at night.
Luckily, as Kimberly says, "I've always had a knack for school." Despite her lack of English skills, she excels in science and wins full scholarships, first to an exclusive prep school then Yale. But the road to success isn't an easy one, as Kimberly struggles between feelings of duty towards her mother and feelings of a different kind for a boy at the factory. She eventually makes a difficult choice that leads to both love and loss.
Reading this book, I felt like someone had stolen some of my memories and spilled them out on the page. Kwok's depiction of how Kimberly's classmates and teacher (!) make fun of her took me right back to fourth grade when I'd just arrived in America and kids pushed me in hallways and laughed at my mismatched clothes. Kwok speaks from inside that feeling of alienation, of being treated as stupid even though you're not. Immigrant or no, who hasn't felt that way?
I could also relate to Kimberly's confusion when encountering her classmates' childhood games:
They were busy with cooties: catching them, getting rid of them and inoculating themselves against them…I had no idea what cooties were and often ended up as the recipient of all the cooties in the class.
I used to get all the cooties, too, and still don't know what they are.
Kwok puts the reader in Kimberly's head by using a voice that's both innocent and too knowing for her age. The author doesn't explain everything Kimberly sees, leaving it up to the reader to figure it out as Kim does, so we can discover her new world along with her. Her first lunch in the school cafeteria sounds almost identical to one of my first meals in America and her reaction also resembles mine at the time:
I wound up with this: minced meat in the form of a saucer, potatoes that were not round but had been crushed into a pastelike substance, a sauce similar to soy sauce but less dark and salty, a roll and milk. I had hardly ever drunk cow's milk before and it gave me a stomachache. The rest of the food was interesting, although there was no rice and I felt as if I hadn't really eaten.
But you don't need to be an immigrant to appreciate this story. We can all use a reminder that even if we've got it tough, there's always someone whose wildest dreams is to have what we have. If we're unhappy with our lives, we have the freedom to change it. Sometimes perseverance isn't enough; we must find a way to overcome. It may require great sacrifices but can result in even greater fulfillment.
Nerd verdict: Resonant Translation