The show was so boring that when I looked down at my notebook after it was over, I saw I hadn't written anything. The winners were predictable—Colin, Natalie, Melissa, Christian—and the speeches routine so I won't be doing a best & worst rundown. I'll just share a few quick impressions and skip to the fashion.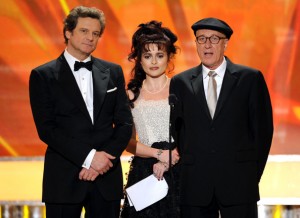 I'm happy The King's Speech won for best ensemble over the The Social Network. Coupled with Speech director Tom Hooper's upset win over David Fincher at this weekend's DGA Awards, chances are good the movie will take the best picture Oscar. After Network's sweeps of major awards earlier this season, Speech's sudden surge makes the competition a bit more interesting.
When Geoffrey Rush gave the acceptance speech on behalf of the cast, he indicated Colin Firth and Helena Bonham Carter and said since we already know who they are, he would thank the other actors in the cast who are less well-known, including Jennifer Ehle, who played his wife; Dominic Applewhite, Ben Wimsett, and Calum Gittins, who played his sons; Freya Wilson and Ramona Marquez, who played princesses Elizabeth (the current queen) and Margaret; and Jake Hathaway, who played a young stammering protegé of Lionel Logue's. It was classy of Rush to spread the wealth and recognize them, especially the child actors.
Firth delivered the only speech that amused me when he won for best actor, saying how he used to flash his SAG card in England because he thought it would get him "female attention, entry into night clubs and top-level government departments. It didn't." He then thanked security for letting him into the building.
On the TV side, as much as I love Betty White, I'm suspicious of her win for Hot in Cleveland. She is always charming but the show itself is not that funny. Sofia Vergara and Jane Lynch are hilarious on Modern Family and Glee, respectively, and more deserving of the award for best female actor in a TV comedy series. White's win seemed more like a life achievement award, something SAG already gave her last year.
Vergara did end up with an Actor as part of the Family cast when it won best ensemble in a TV comedy. After being beaten by Lynch at the Globes and Emmys, I'm glad Vergara finally won something.
For the full list of winners, click here. Read on for the fashion breakdown.
Best dress: Mila Kunis. I love everything about this Alexander McQueen. The fiery color, the print, belt, flowy and comfy-looking fit. She looks dreamy.
Most unique color: Sarah Hyland. She stood out for being the only one wearing this pretty hue.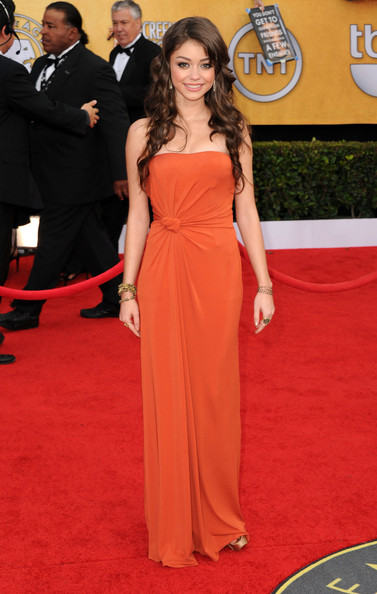 Best use of color: Tina Fey. I adore this woman but she's always in boring black, navy or neutral tones. Once, she even wore brown. This time, she wore fire-engine red (first time at an awards show?) and looked hotter than ever.
Too many colors? Hailee Steinfeld. Her hair and makeup were pretty, but in this dress, she resembled a walking stick of Lifesavers candy.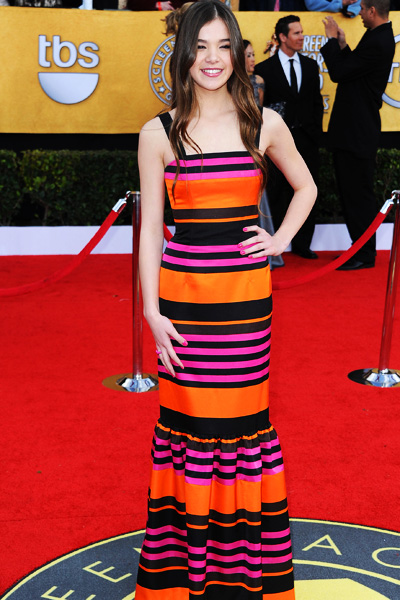 Most in need of color: The Glee cast. Dull, meh, yawn, bleh.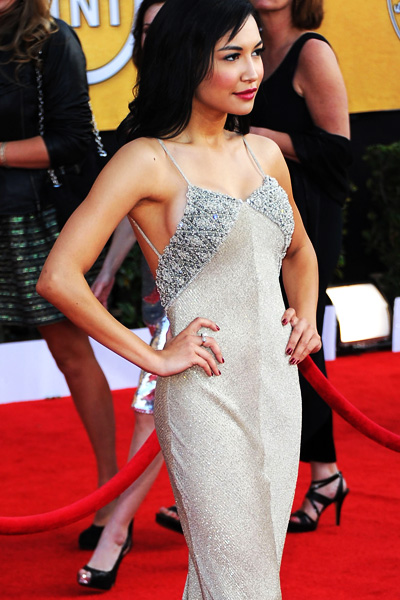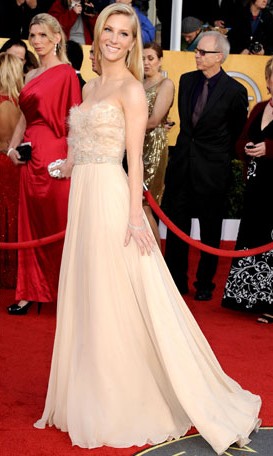 Best beige look: Hilary Swank. I'll make an exception for her nude look because oh my gosh, look at those arms. They're a nice contrast to the soft drape of the dress, making her look strong and feminine at the same time.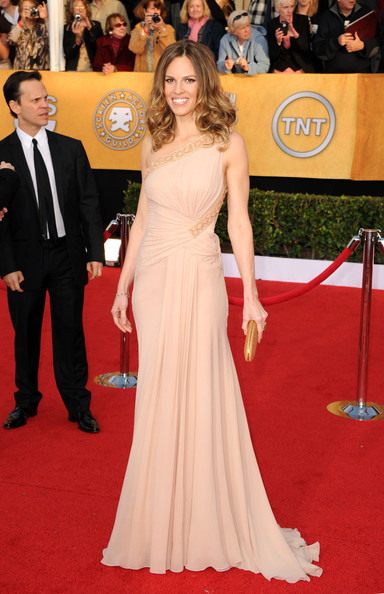 Most Madonna/Whore: Jennifer Lawrence. The dress and hair looked classy, but the heavy makeup and stripper shoes cheapened her look.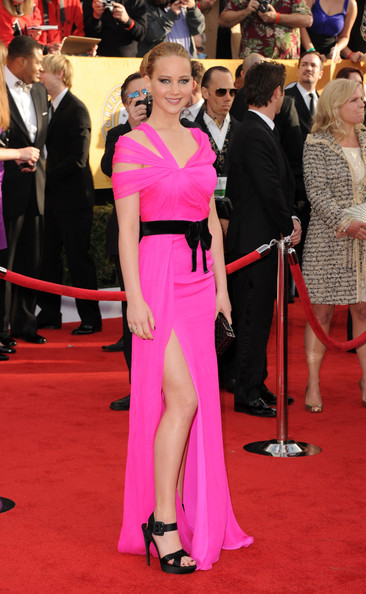 Most confused dress: Jayma Mays. Her gown couldn't decide if it was long or short, and whether it should have epaulets on its shoulders or not.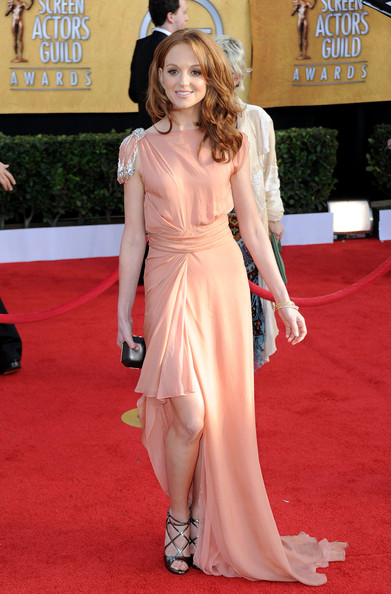 Most improved: The actresses who played Micky Ward's trashy sisters in The Fighter (with Melissa Leo in the center). They look much prettier without their hair weaves.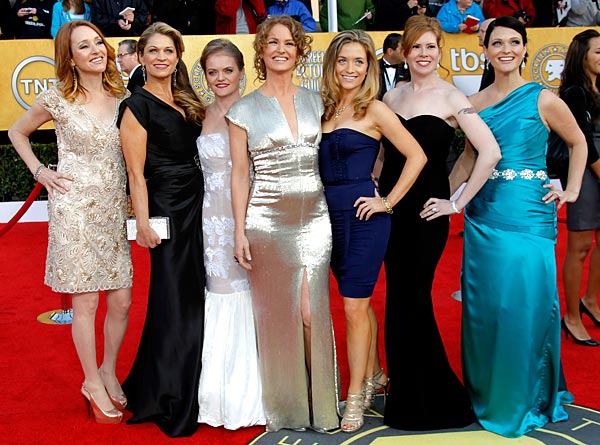 Best earrings: Rosario Dawson. How striking does the jade look against her skin?
Best rebel: Julie Bowen. She was the only female winner last night who wore pants but there's nothing manly about her jumpsuit.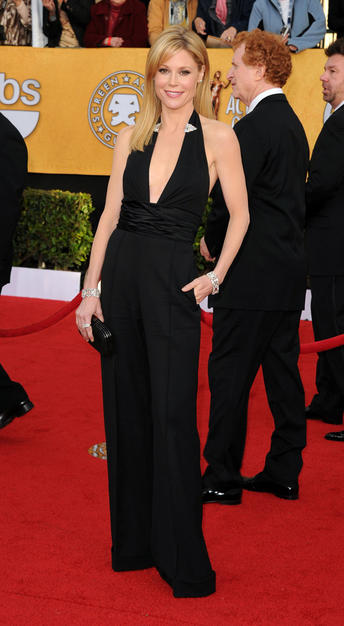 Most age appropriate: Modern Family's Ariel Winter. She looks adorable, braces and everything.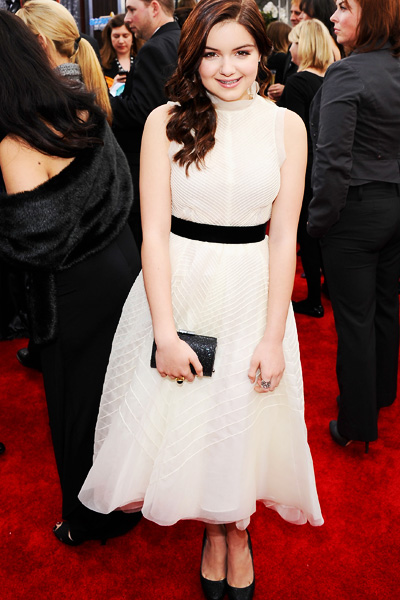 Least age appropriate: Jane Lynch (with Lara Embry). The color is pretty but that poufy prom dress is all wrong for her.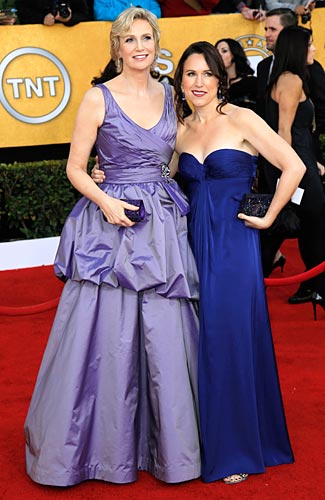 Most resembling a hotel bed coverlet: January Jones. I think I saw something like that in a Holiday Inn once. I didn't even want to sit on it, much less wear it.
Most resembling a cheese grater: Kate Mara. Actually, she's a grater on top and cookie cutters at the bottom.
Best-dressed male: Jon Hamm. What's wrong with this picture? Nothing.
Most inadvertent Goth: Christina Hendricks. I couldn't tell if the overdone raccoon eyes and smoking-jacket dress made her look punk, cheap or scary. Maybe all the above.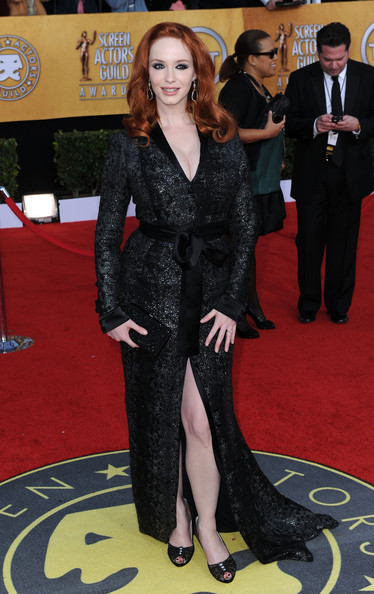 Did you watch the show? What did you enjoy or didn't? Who did you think was best dressed?
Photos: Getty Images