I went to a screening of Cowboys & Aliens last night and my trusty contributing writer, Eric Edwards, was there, too. The following is our discussion afterward.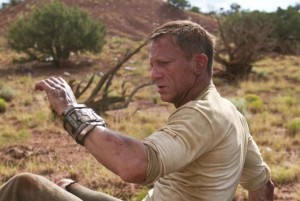 But first, a quick synopsis: A man (Daniel Craig) wakes up in a desert town with no memory of his name or where he came from. He has a strange metal cuff on his left arm that can't be removed. He encounters the sheriff (Keith Carradine) and the cattle rancher (Harrison Ford) who seems to control the town, and gets caught up in an alien attack the very night he arrives. A beautiful woman (Olivia Wilde) says she needs the stranger's help and next thing he knows, he's out to get the town's abductees back.
Pop Culture Nerd: This is one of those instances when the actors make the script look way better than it probably reads.
Eric Edwards: Yeah, with no-name actors, this would not have been as good, but the title is what drew me in. C'mon, it's Cowboys & Aliens! Who wouldn't want to see that?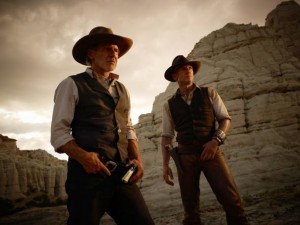 PCN: Uh, I need more than a title. Sometimes you have a great title and a movie that's garbage. Other times, the reverse is true. I went because of Daniel Craig and Harrison Ford. I like Olivia Wilde, too, but she's not the main attraction. It's not their fame, though, that elevated this movie. It's their talent. Craig made the movie. Ford was chomping hard on that Western scenery at times but I forgave him because, you know, he's Harrison Ford. I love Han and Indy too much to hate on him. For now.
EE: This was like a big bucket of popcorn. While you're eating it, you're enjoying the salt, the butter, the crunchy. But as soon as you're done, you realize you didn't eat anything nourishing.
PCN: I agree but I don't think the filmmakers were trying to make a steak dinner. It's OK to simply aim to make an entertaining movie, which this is for the most part. I enjoyed it, but it didn't stop me from noticing its flaws. With such a fantastic premise, it could have been so much better.
EE: What did you think of Daniel Craig's character?
PCN: I like him but he's a cipher in the beginning of the movie, to himself and to us because he has amnesia. It's hard for me as a viewer to have deep emotional stakes in a character who doesn't know exactly what he stands for.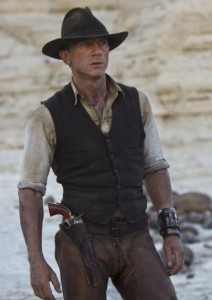 EE: We saw what he stood for! He didn't try to cause harm. He only defended himself when he had to.
PCN: That's not really standing for something. Most people, even criminals, have an innate defense mechanism when they're threatened. It doesn't make them heroic.
*Mild spoiler*
EE: Yeah, but it's how they approach their situations. I never felt that The Stranger/Jake reacted in any way that was purely selfish. That's why it's kind of surprising to find out he's a wanted man.
*End spoiler*
PCN: Don't get me wrong. I was definitely rooting for him because Craig gave him gravitas. He has such incredible presence, even when he's not speaking, that you know The Stranger is the guy everyone will pin their hopes on without even knowing if he's good or bad because he's the only one who can get the job done. I give Craig credit for bringing that. I don't think it was on the page.
EE: Yeah, he radiates cool with an underpinning of danger.
PCN: And his pants were tight. I wasn't looking but they kept showing the view. But I digress. It's interesting how, compared to Craig's stillness, Ford seemed over the top. He looked like he was posturing and he's usually the king of deadpan.
EE: He and Craig were kinetic together, but when Ford had scenes with other characters, they didn't play as well. It's like Craig grounded him.
PCN: I was choking a little on the cornball manly dialogue between Ford's character and the young boy, Emmett (Noah Ringer). The whole business about the knife was too foreshadowy and heavy-handed, and what he said to Adam Beach's character near the end made me groan.
EE: There were a lot of clichés. It's like the writers didn't trust the intelligence of their audience.
PCN: Well, there were five writers credited for the screenplay. That's never a good sign.
EE: Olivia Wilde's role could have been played by anyone.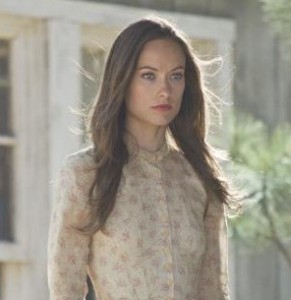 PCN: It's not her fault they didn't give her enough to do! I know Ella's supposed to be mysterious but I got tired of all her lurking and stalking of Jake in the beginning. I was saying in my head, "Just state your business, woman!" Wilde did what she could. She sure had great eyebrows and white teeth for the West in 1873. What did you think of the aliens?
EE: I think we saw too much of them and they lost their fear factor after a while.
PCN: I didn't find them intimidating at all, and I'm a scaredy cat when it comes to aliens.
EE: They were scarier when we couldn't really see them and could only hear them. And at first, I thought their spaceships looked liked X-wing fighters!
PCN: I thought that, too! I was expecting Wedge to radio in. But I'm not sure the Force was with this movie.
EE: It's entertaining. It's cowboys and aliens. Don't look for much more than that.
Nerd verdicts: PCN—Cowboys not wild enough in the West, EE—Craig gives Cowboys a kick in the pants