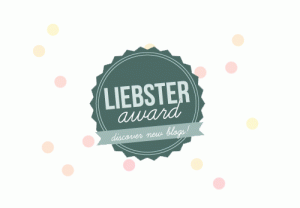 Earlier this week, my blogger pal le0pard13 gave me a Liebster Award. "Ich liebe dich" is "I love you" in German so I think this is a good thing. If "liebster" means something else in Chinese, I really don't want to know.
There are a bunch of rules attached to accepting this award, but as usual, I'm too lazy to follow rules. So I'll just comply with the easy ones, which include telling some facts about myself, and answering questions le0pard13 posed to the people to whom he presented this. Here goes.
Eleven things about me:
I have met Clint Eastwood and Chuck Norris. One was super nice and the other was similar to how he is on screen. I'll let you guess who's which.
I once stumbled onto a nude beach and ran away. I didn't want to watch the volleyball game.
Every year on my birthday, I do something that scares me. (No, the nude beach was not a birthday experience, though it was plenty scary.)
I used to have a photographic memory, which made my friends uncomfortable because I never forgot anything. Now that I'm older, it's not so perfect anymore, much to some people's relief.
I worked briefly for a private investigator. Undercover.
Children at ice-skating rinks fear me because I haven't quite mastered the art of stopping.
I've voiced video games but am no good at playing them. It's disconcerting when I keep blowing up my character and hearing myself scream.
I was sitting in my college advisor's office when his wife, Alexandra Ripley, called him to say she'd been chosen to write the sequel to Gone with the Wind (eventually titled Scarlett).
I'm scared of manholes.
Once at a wedding, when someone asked how I knew the happy couple, I said the groom often stayed over at my place and we used to bathe together. When the man started choking on his drink, I added that the groom was my cousin and we were both three at the time.
I will never, ever get over the death of my German shepherd puppy, Bear, when I was six.
Answering Michael's Qs:
What was the last reference book you used?

Merriam-Webster dictionary.
What pop song from your youth, used in a movie, immediately got you to react, "Oh, no you didn't!"? I love the '70s and '80s music from my youth so I'd probably never react that way. More like, "Yeah, baby!" Scritti Politti, Milli Vanilli—it's all good.

Steve McQueen or Paul Newman?

Mr. Newman, because he also made food.

Which foreign country, known for its cinema, have you yet to watch a movie from?

I hope this doesn't make me sound like a snob, but I've seen at least one movie from every country famous for cinema. I like foreign films.

Favorite film with Samuel L. Jackson in it (whether he's starring, supporting, or cameo)?

Jungle Fever. His performance blew me away. Runner-up is The Incredibles.
Favorite over-the-top performance from Face/Off: John Travolta as Sean Archer/Troy Castor or Nicholas Cage as Troy Castor/Sean Archer? Travolta.

Ketchup or salsa?

Salsa. Fresh and extra hot. With some habanero Tabasco thrown in.

What clearly dramatic scene from a movie made you inexplicably burst out laughing in reaction?

Probably one in which Nic Cage tried to emote.
Wyatt Earp or Tombstone? Neither. I dislike Westerns, and haven't seen either one.

What was the latest, or earliest, movie screening you've ever attended?

Earliest was probably Dr. Zhivago or Love Story, both of which I saw in Vietnam. They made me cry buckets, though I was only about five and couldn't read all the subtitles.

Who is your favorite writer (can be author, film or TV screenwriter, or director/writer)?

Robert Crais and Bill Watterson for living writers, Joan Aiken and Hergé for deceased. Yes, I named four, but did you not see the part about how I don't follow rules well?
Thanks so much, Michael, for awarding me with this and making me reveal all my crazy to people.
Happy Labor Day weekend, everyone! Hope it's as lazy as I am!