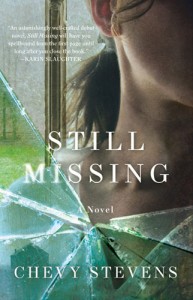 Any time someone says a book is "unputdownable," I take it as a challenge: "Oh, yeah? Watch me." And I often win.
But author Chevy Stevens (a pseudonym for Rene Unischewski) has earned this word on the back cover of her debut novel Still Missing (St. Martin's, July 6), making me hate myself every time I had to put it down to attend to basic human needs. I was thisclose to strapping on an adult diaper and a feed bag so I wouldn't have to take breaks.
Annie O'Sullivan is a Realtor from Vancouver Island who was abducted and held captive for about a year by a man she calls The Freak. Her horrific experience in an isolated cabin up unfolds in first person through sessions with her therapist. From the beginning, you know she survived but don't know how she escaped or what was done to her. As the sessions continue, you kinda wish she wouldn't tell you. And just when you think Annie's ordeal might be over, she discovers the reason behind her abduction. The new revelations are more shattering than anything The Freak did to her.
I usually know right away whether or not I'll like a book and here's what hooked me from page one:
Even the guy's office was a turnoff—black leather couches, plastic plants, glass and chrome desk. Way to make your patients feel comfortable, buddy. And of course everything was perfectly lined up on the desk. His teeth were the only damn thing crooked in his office, and if you ask me, there's something a little strange about a guy who needs to line up everything on his desk but doesn't get his teeth fixed.
This is Annie's description of her previous shrink and it perfectly sets up her voice: wary but sharp and dark-witted. Though she doubts she'll ever find her way back to normal, she's more resilient than she realizes. What she endures at the hands of The Freak is beyond disturbing (he makes Lord Voldemort seem charming), but I couldn't stop reading. It's as if I had to bear witness to Annie's pain because if I look away, she'll disappear again, maybe for good.
Stevens's lean, punch-in-your-gut style held me captive. She doesn't embellish the terrible events because she doesn't need to. She does drop an obvious clue to the culprit's identity long before Annie recognizes it, but Annie's psychologically scrambled state makes it plausible she wouldn't catch on.
Throughout most of the book, my stomach hurt from the tension; my skin wasn't just crawling, it was practically jumping. It's easy to see why Stevens had to approach only one agent and one publisher with her first manuscript before she was signed to a three-book deal (read more about it here and try not to hate her too much).
Nerd verdict: Searing Missing
Buy Still Missing from Amazon

Buy from Barnes & Noble
Buy from an indie bookstore
I'll be missing from this site for the next several days as I go out of town for the holiday weekend. I'll have Internet access but may choose not to use it. If you observe the Fourth of July, I wish you a safe and wonderful celebration.