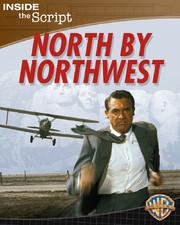 Late last night, Deadline.com reported that Warner Bros. Digital Publishing will be releasing a series of eBooks that contain shooting scripts for classic films, with loads of extra content about each movie. The four announced titles are North by Northwest, Casablanca, Ben-Hur, and An American in Paris.
The extras on N by NW include the storyboards for that famous crop-duster scene, Hitchcock's notes, costume sketches, and post-production memos. The Ben-Hur tome has excerpts from the journal Charlton Heston kept while shooting, makeup and wardrobe tests, and patent designs for MGM's new widescreen camera. The Casablanca book details the origins of some of the film's most famous lines, and contains memos from studio president Jack Warner. An American in Paris takes a look at the paintings that inspired the film's dream ballet sequence and includes lyrics for the musical numbers. They all contain galleries of behind-the-scenes photos and glossaries of film terms.
The books are available for Kindle, Nook, and iBooks. (I've linked to the various booksellers above; click on "the editors of Warner Bros. Digital Publishing" to access the other titles from the same bookseller.) I'm aware this is beginning to sound like an infomercial, but no, I'm not getting paid to write this—I never get paid to write anything here—and am only an Amazon affiliate, meaning they'll give me about thirty cents if you buy it from there.
I'm just excited about these books because they're treasure troves for movie fans like me. I studied film in college but didn't have access to this kind of behind-the-scenes information. I can't wait to see what other titles will get the same treatment.
Are you as excited about these books as I am? Which titles would you like to see Warner Bros. release?